Blog
FARR AND RICCIARDI PROVIDE CLASSIC NIGHT AT CLASSIC ENRICO CARUSO ROOM AT GROTTA AZZURRA IN LITTLE ITALY
By William Wolf, Wolf Entertainment Guide

Posted: Sunday June 28, 2012
Enrico Caruso would have had a good time in the room he and other opera singers used to frequent. At the Grotta Azzurra Ristorante, which originally opened in 1908 and is still flourishing at 177 Mulberry Street, at Broome Street, opera singers entertain on Tuesday nights and on Thursday nights it is Open Mic time. The fun takes place downstairs in the Enrico Caruso Room, named after the legendary great opera tenor.
Extraordinary singers, soprano Shana Farr and tenor Vincent Ricciardi, were the stars on Tuesday, June 26, the night I attended. They were both terrific presenting a program that showed off their respective fine voices and appealing personalities. The room itself has an air of history about it, decorated with vintage photos, old music discs and records and even caricatures drawn by Caruso, all donated by Aldo Mancusi, founder and curator of the Enrico Caruso Museum in Brooklyn. While enjoying the program, I mused that Caruso might have gotten a kick out of seeing 21st century artists upholding the tradition of the room.
I have seen the very attractive Farr in other venues singing popular music and have been impressed with her talent. But I hadn't seen the operatic side of her. She has an impressive soprano voice, shown to advantage with the numbers she performed, two by Puccini, "O mio Babbino Caro" and "Quando m'en Vo." She also regaled us from her more popular repertoire, including "Vilia" by Franz Lehar, "I'll Follow My Secret Heart" by Noël Coward, "My White Knight" by Meredith Wilson and Cole Porter, and "I Could Have Danced All Night" from "My Fair Lady" by Frederick Lerner and Alan J. Loewe.
Ricciardi, with a strong tenor voice, performed "O Sole Mio" by Eduardo Di Capua, "Parmi Vedere" by Giuseppe Verdi, "Be My Love" by Nicholas Brodsky and Sammy Cahn; "La Donna e'Mobile by Verdi, "A Vucchella" by Paolo Tosti and "Nessun Dorma" by Puccini.
As an extra treat Farr and Ricciardi charismatically joined forces in two duets, "You Are Love" by Jerome Kern, and "If I Loved You" by Rodgers and Hammerstein. It was thrilling to hear singers of that caliber in the intimacy of the Caruso Room. David Schaefer was on keyboard.
The series of performances are being presented by producers Mort Berkowitz and Les Schecter (Mort and Ray Productions and LS Communications), who have teamed to offer various opera competitions and concerts in assorted Little Italy venues and elsewhere over the past decade.
The Tuesday night schedule in July is as follows: July 3—Michael Padgett and La Toya Lewis; July 10—Aaron Caruso and Melanie Goerlitz; July 17—Ernest Revell and Lori Fredericks; July 24—Caranza (Patric Hale) and Samantha Knjoi, and July 31—Anthony Caputo and Leah Tehrani. Reservations: 212-925-8775.
My weekend with Mario Lanza!
Posted: Sunday November 09, 2011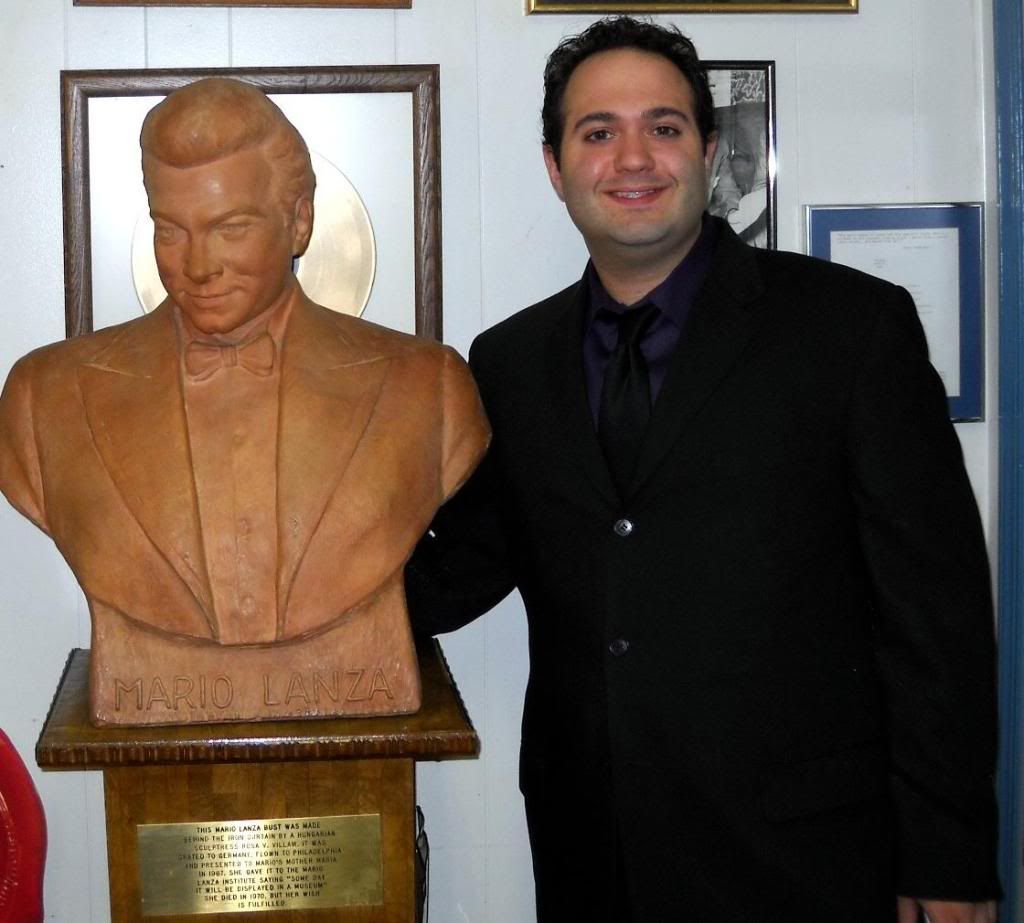 Mario Lanza fans are really great people. They love Mario Lanza, they love the music, and they love anyone who continues his legacy by sharing that music with contemporary audiences. Having performed for the fan club here in NYC, I was excited when the Mario Lanza Institute and Museum asked me to be the featured performer at the Mario Lanza Tribute Dinner during their big Mario Lanza Gala Weekend. The dinner was the kick off to the events for the weekend which included the Tribute Dinner, various receptions and the Mario Lanza Ball. The winners of the Scholarship Competition perform and are awarded their prizes at the Ball.
The Tribute Dinner took place on Saturday night in an intimate Italian Restaurant called the High Note Café. The Café features live music, singers, musicians, etc. Photos and album covers of Mario Lanza, Jussi Bjorling, Pavarotti, Domingo, Corelli, Gigli, Frank Sinatra, Dean Martin, Al Martino and many others adorned the walls and provided the perfect ambiance for the event. Elaine Malbin was the special guest and was there to share her experiences singing with Mario. I was the featured artist for the night and there were two waiters on the staff who had beautiful voices of their own and shared them with everyone throughout the evening. My set list included "O Sole Mio," "Che Gelida Manina" from La Boheme, "a Vucchella" and "Be My Love." The audience was wonderful and responsive. It was great to sing for everyone. Good music, good food and the wonderful ambiance made for an unforgettable night.
After accepting the initial invitation to sing at the tribute dinner, I was also invited to sing "Ave Maria" at St. Mary Magdalen de Pazzi Church, the first Italian national parish in the US and the church where Mario went as a child. I answered with a resounding "YES!" The church, located in Philadelphia's little Italy, is very beautiful. All the parishioners and those from the Mario Lanza Institute showed great appreciation of my rendition that morning and it was a really wonderful experience.
After the service there was a coffee and cake reception at the Museum. I spent the remainder of the morning and early afternoon looking through the museum and discussing Mario with his fans, some of whom had even seen him perform. I was invited by the Institute to attend the Ball as their guest. A fun end to a great weekend. I spent time in between visiting the home of Mario's birth, seeing the huge mural of him and enjoying a real Philly Cheese Steak from Pat's Steaks.
The Double Tree Hilton was prepped and ready for the enthusiastic crowd. I introduced myself to my peers competing in the finals and wished them all well with a "Toi, Toi, Toi!" Joining Elaine Malbin again, I sat at the cocktail hour enjoying the food and the conversations when William Ronayne, the host of the weekend's events, approached me with surprising news. One of the featured performers in the night's 3 Tenors Tribute to Mario had cancelled last minute and asked, would I be willing to perform tonight?... I jumped right in!
The night was a huge success. The competitors were in top form and it was wonderful to watch their artistry at work. After the finalists completed their pieces, it was our turn to perform for everyone. I had the pleasure of performing with two fine tenors who were the first and second place winners of last year's competition, each from a leading opera conservatory; John Viscardi and Diego Silva. We had a blast. We performed a medley of favorites which included "You'll Never Walk Alone," "O Sole Mio," and "Nessun Dorma." Each of us enjoyed ourselves on stage while both pushing and complimenting each others' performances. It was a real honor to be surrounded by such wonderful performers, and more so to get on stage and perform with some of them. I wish all of them the best in the future. It was a weekend I will always remember.
"May you have the best of everything in life always!" -Mario Lanza
Opera Night Interview 6-24-11

Posted: Sunday July 24, 2011
I was recently interviewed for Opera Night's newsletter. You can read the interview below.

Jenny's corner:
Opera Night was recently honored and thrilled by the performance of Vincent Ricciardi, a Lyric Tenor who specializes in Italian Opera. Ricciardi has performed throughout New York and New Jersey and recently performed as Frederick in a production of Gilbert and Sullivan's operetta "The Pirates of Penzance." He answered a few questions for us about the development of his passion and what is to come.
1) You recently performed for Opera Night in Northport, NY. How was this experience?
The experience was wonderful. When you perform for a group that does not know you, it gives you a great opportunity to really surprise the audience. Opera Night's crowd was wonderful and responsive all night; and I was really excited to sing for them. The reaction I received was really amazing. You can actually view my performance of "Una Furtiva Lagrima" from that night on my youtube channel: http://www.youtube.com/user/VincentRicciardi
2) Your website says you began to study classical voice in 2000 at Adelphi University with Beverly Myers and Michael Hume. What got you initially interested in Opera, music and performing?
I grew up in an Italian/American household on Long Island. Because of my Italian heritage, I was introduced to many genres of music. My grandfather Carmine Lombardo spoke fluent Neapolitan and was a crooner. He used to sing all around the house; and taught me my first few Neapolitan songs.
I had studied Musical theater in High School at Nassau BOCES High School of the Performing Arts. When I moved on to Adelphi University it was to study theater. I was 17 when I had my first voice lesson with Beverly Myers, who sings at the Metropolitan Opera. She took me through the full extent of my vocal range and smiled. She gave me a home work assignment; I needed to find and listen to recordings by Mario Lanza and Jussi Bjorling. Until then my knowledge of opera was limited to the Neapolitan styling of Jimmy Roselli, the classical/pop style of Andrea Bocelli, and of course the Three Tenors, but it was Mario Lanza's voice that gave me the itch. It was more than beautiful, it was passionate.
3) Genres of your work include Opera, Neapolitan Song and Operetta. Do you have a favorite genre, Opera or Show?
I do not particularly have a favorite genre of music to perform. All of the genres I perform have their own identities and styles. I enjoy the diversity, but Neapolitan song will always have a bit of a soft spot for me.
4) Currently you are working on a project about Mario Lanza. Can you tell us more about it?
I came into opera from a theater background. My goal is to write and mount a play about the life of Mario Lanza. He has such an interesting story and a wild personality, that I think it would translate well on stage. I have not finished writing the show yet, but I have put together a tribute concert to Mario Lanza and Enrico Caruso that I performed in NYC, "Vincent Ricciardi sings Mario Lanza...and Caruso too!" It received a great response and I hope to perform the concert again; maybe on Long Island.
5) Do you have any favorite performance memories?
At the end of my concert "Vincent Ricciardi sings Mario Lanza...and Caruso too!" I came out for my encore and sang my own rendition of "Con te Partiro." I looked at the audience, many of whom were crying, and realized that the audience had not just watched my concert, they had taken a journey with me. It was something I'll never forget.
6) How do you see yourself being involved in Opera and performance in 10 years?
I hope in 10 years that I will have attained my dream of being a well known performer and entertainer. I hope that my career encompasses Grand Opera, Operetta, Broadway, concert work and the recording studio. I love it all and hope to find as many ways as possible to share beautiful music with anyone who will listen.
Thank you, Mr. Ricciardi! We hope we are lucky enough to see him perform again soon. In the mean time, you can see him at St. Monica's Church in Manhattan, where he is a featured soloist, or visit his website here: http://www.vincentricciardi.com
-Jennifer Ingersoll
REVIEW Vincent Ricciardi: Songs from Me to You!
Posted: Saturday January 30, 2011
The composer said it best, "I have often walked down this street before, but the pavement always stayed beneath my feet before…" The song literally rang true for the audience seated on the "second' floor of the Triad Theater at `58 West 72nd street tonight. They also experienced the "emotional high" of Vincent Ricciardi's magnificent voice. The young tenor took his audience on a fast track tour of some of Opera's greatest melodies and wended his way down to Broadway and along the path to a new song that he composed – "Deep in your Spanish Eyes. The performance was fast-paced and met the expectations of an audience made up of friends, family and the "regulars" at this small theater above a Turkish Restaurant looking for a great night of entertainment. They found it, indeed in the talent of this newcomer.
A man of few words, the tenor's repertoire included Opera standards, Mala Femmena, Granada , O Sole Mio, La Donna e' Mobile and others.
Ricciardi belts out his music with the power and intensity expected of opera tenors, but there is more to this youthful performer. You not only hear the sounds, but see them too. Every note is shaped in such a way that it is uniquely his and his alone and you watch them pour forth with a passionate and sensual strength necessary to make him unique among today's rising tenors. His jovial face and manner are pure seduction and he releases himself from the typical "performance pressure" - enjoying himself to the point that one begins to wonder if the great Caruso, who performed with this same release, has been reincarnated. The audience had their own ideas with one man commenting, "He looks like Caruso, acts like Caruso and sounds like Caruso…I wonder if he eats like Caruso?" While we agree, there is only one Caruso, this singer brings a uniqueness in all aspects of his performance that will surely make him as memorable.
And one could not escape the presence and talents of David Shaefer, who not only accompanied the young artist, but who has brought this talent to the public with no apologies for his lack of experience and untouched voice. This is raw talent on the rise with an audience that continues to grow with each appearance. This critic thinks he'll accumulate fans with the same persuasiveness of the best tenors of our time.
-David Mercaldo PhD , Skyline Theater Productions
My first Commercial CD release and Upcoming Shows!
Posted: Saturday March 20, 2010
Hey Everyone,

I'd been meaning to update everyone sooner about everything thats going on, but I was waiting for a few things to solidify first.

Charlemagne: By the Sword and the Cross:

Star of stage and screen Christopher Lee headlines a cast of international guest singers on this Concept Album for a new Symphonic Metal Musical. The album was released on Monday March 15th in the United Kingdom, as well as in the US as a digital download on itunes and Amazon. It marks a milestone for me. It is my first commercially released track. I appear on the album as the Young Charlemagne on the track "The Bloody Verdict of Verdon." Check out the Album:

http://charlemagneproducti ons.org/

The Sinatra Club:

About 2 years ago I met Sal Polisi when I auditioned for his movie The Sinatra Club. The movie showed the true story about the heist that gave John Gotti the street credit to become the Gangster we know he became. It is seen through Sal's eyes, because Sal was there and was one of the first to turn states evidence to put John Gotti behind bars. Funding fell through on the movie, but Sal who had been impressed with my audition kept in touch.

Last year while planning a one man show about his life he called and asked if I would be interested in writing a song that he could use as closing music to the play. I wrote the song "Sometimes You Gotta Get Away" which was arranged by Jack Walker and produced by Jack Walker and myself.

Funding was finally found for the movie and while I didn't end up acting in the movie, my song did make the cut. You can see the trailer as well as learn more about Sal Polisi here:

http://www.salvatorepolisi .com/trailer.html

To hear my song "Sometimes You Gotta Get Away" go to my webpage:

http://www.vincentricciard i.com/singer.html

Upcoming Shows:

Miscast:

April 25th, 2010 at 4:00 PM

The Duplex
61 Christopher Street (at 7th Ave.),
New York, New York 10014

Cost: $10.00 Cover + 2 Drink Minimum

Cristen Kennedy, Michael Padgett, Vincent Ricciardi & Emily Wright will be taking center stage under the direction of Debbi Burdett, and accompanied by David Schaefer on piano to live out our dreams in "Miscast" roles we would never perform - at least not yet...or ever. We promise thought provoking performances, gender bending, and rip roaring laughter! See the attached Flyer.

FOR RESERVATIONS:
Book online: www.theduplex.com
By phone: 212-255-5438

Mario Lanza Society of New York Annual Gala Dinner:

June 5th, 2010

Patsy's Restaurant
236 West 56th Street
New York, NY 10019

Cost: $65.00 per person for members. $75.00 per person for non-members.

Come join your fellow Mario Lanza fans as we listen to his great recordings and enjoy the fine cuisine of Patsy's Restaurant. Special guest tenor Vincent Ricciardi will perform with soprano Emily Wright, accompanied by David Schaefer.

Three Course Dinner/ Cash Bar

For information/reservations only call 718-338-8662 or e-mail wjronayne@optonline.net

A Touching Review:

I want to leave everyone with a truly wonderful write up I received after singing at the Mario Lanza Association Luncheon on March 6th. The write up didn't come from a newspaper, but from a newly made fan who felt the need to express how touched they were at my performance, which in turn touched me. They have given me permission to share it with everyone, but for the time being I'm going to keep them anonymous:

"Yesterday, the patrons of the Mario Lanza club were treated to the necessary culinary delights of Patsy's (world famous) restaurant and something else. Young tenor, Vincent Ricciardi presented a brief program, highlighting the various works of Lanza while demonstrating one of the best prospects for upcoming young tenors. While the room was small, it did not cheat him of the broad acoustics necessary for such a performance, Mr. Ricciardi sang with the same emotion of Lanza and for a moment, one was tricked into believing the great Caruso, reincarnated, joined the group in the person of a young musician and tantalized us with the same dramatic, yet casual performance he was known for in New York and the world. Who could be more qualified to honor the memory of America's foremost tenor...or shall I say tenors than this 27 year old who, with time and continuous training, all great Opera tenors receive throughout their career... will escalate to be a friend to opera and opera lovers."


All the best to everyone,
-Vincent
---
A Successful Night in NY…and Upcoming Events!
Posted: Monday, February 22, 2010
Last night's show at the Triad was a huge success. The house was packed and the audience was lively and had a great time. I had many friends and family in the audience, but I also had a number of fans, which was so exciting to me. For those of you who were there, I want to extend my thanks once more to you for being there, supporting me and being a truly great audience. I also wanted to thank a number of people who could not be there, but whose donations made the night possible. As an independent artist much of what I do is done with the help of donations whether from musicians and other artists who give there time and craft or from people like you who give from your heart because you believe in me. For the support I've been shown I consider myself truly blessed.

I hope to have clips of the show and more up on the Internet soon. I will let everyone know once that happens.

News Update:

Charlemagne: By the Sword and the Cross: Staring Christopher Lee
As a vocalist I've been part of a number of projects in particularly as a recording artist. About a year ago I recorded a song for a concept album for the new symphonic metal musical Charlemagne: By the Sword and the Cross. The concept album features film and theater star Christopher Lee as the elderly Charlemagne. I play young Charlemagne during his campaigns against the Pagans. On the Album I'm featured in a duet with Christopher Lee himself, "The Bloody Verdict of Verdon." The album is due for release on March 15th in the United Kingdom. I will provide more details as I get them. For now you can find more information and clips from the album at the following links:

http://charlemagneproducti ons.org/
http://www.christopherleeweb.com/

Upcoming Events:

Mario Lanza Society of New York Luncheon:
Come enjoy a gala luncheon with special invited guests soprano Elaine Malbin and tenor Vincent Ricciardi. Mr. Ricciardi will perform live.

Saturday March 6, 2010 1:00 p.m. - 4:00 p.m.*
Patsy's Restaurant
236 West 56th Street
New York, N.Y. 10019
(212) 247-3491

Three-course lunch/ Cash bar
Discounted parking at garage directly across the street from Patsy's.

$65.00 per person (Club Members)
$75.00 per person (Non-Members)

Come join your fellow Mario Lanza fans as we listen to his great
recordings and enjoy the fine cuisine of Patsy's Restaurant.

For information only call 718-338-8662 or e-mail wjronayne@optonline.net

*****Kindly RSVP by March 2, 2010. 48 hour cancellation policy applies*****
*Luncheon begins promptly at 1:00pm. Latecomers will be seated at appropriate interval.


Well, that's all for now. Thanks again everyone.

All the best,
-Vincent
---
Be My Love

Posted: Wednesday, March 09, 2009
Here is a video of a performance of Mario Lanza's "Be My Love." Please forgive the sound quality. The camera we were supposed to use fell through.

David Schaefer is accompanying me.

http://www.youtube.com/watch?v=ak8zUqxdn68
---
Posted: Tuesday, January 06, 2009
As many of you already know, with the encouragement of my new vocal coach, composer David Schaefer, and various friends, family, and colleges I've begun researching and planning a show about the great Mario Lanza. Mario's own life is a story as interestingly exciting as his fantastic voice, and the controversies surrounding his talents and death are those that I feel could really entice an audience.
As a tenor searching for my voice, Mario's recordings were some of the most influential to me and helped me shape and find the voice I have now. There is a certain quality to my voice that has a striking resemblance to his. Physically we are similar with a dark hair, expressive eyes, barrel chest and physical presence of a boxer. Over the last few years this resemblance has been brought to my attention time after time when performing, and now at 26 as my voice is coming into its own I feel I am ready to try and not only pay tribute to Lanza by singing the music that enticed the entire world and sold better then Frank Sinatra, but pay him the honor his life deserves by telling his story as truthfully as I can.
I am not the only one moved by Lanza's story. Numerous books have been written, Theatrical Projects performed, tribute concerts and CD's from the world most popular and talented opera singers, documentaries, a movie planned that never reached fruition and even a show meant for Broadway that's been struggling for years to try and tell his story.
My own research has included articles on numerous websites, Wikipedia, Opera associations, and Lanza tribute sites. I've read numerous biographies that range from the fanciful ranting of Hedda Hopper to the poignant musical analysis of Armando Caesare a fellow Tenor and music buff. I own 2 very good biographies about the man as well. I've also managed to speak with some people who have worked on shows about Lanza and found other productions that have been done and hope to touch base with those performers as well.
Tribute CD's:
For those interested; quite a few Mario Lanza tribute CDs are available. Jose Carreras released one as did Greek Tenor Mario Frangoulis. Carreras' CD is nice, but his songs in English suffer. Frangoulis' CD is really excellent, but we find many of the songs transposed down as Lanza's top is extremely hard to duplicate, but otherwise the CD is a nice tribute. Even "The Singing Policeman" American tenor Daniel Rodriguez pays tribute to Lanza on his Second CD. His recording of "Be My Love" is probably the best non Lanza recording of the song. His brilliant high C at the end rings loud with verve of his idol and seems to go on forever. Bravo Daniel. Numerous singers have paid homage by recording or performing "Be My Love" but many shy away from the high C or perform it as a duet as it was done in "The Toast of New Orleans," which requires a high A instead of the C. The song was Mario's biggest hit and the best selling song of 1950.
A Mario Movie?
That's right. In the mid to late 90's they were trying to get a movie up and going about his life and had Billy Zane, fresh off his "Titanic" popularity in negotiations to play Lanza, while a trained Opera singer would record all of Lanza's songs. I never came across the name of the singer who was slated to do the recordings. One would hope they were looking at tenors like American tenor Richard Leech, himself a Lanzafile and one who gave tribute to Lanza in 1999 at Grant Park in Chicago.
Mario Show:
Throughout my research I've come across (3) major productions that have been done to tell Lanza's story. There may have been more, but these (3) are the largest most high profile of them.
The Mario Lanza Story by Charles GaVoian
GaVoian a Lanzafile and Tenor put together a one man show about the life based on a screenplay he had written about the tenor's life. The show is set in Rome at the end of the Tenor's life. Lanza recounts his life in an interview with an unseen reporter. The show toured the US and was endorsed by the Lanza family. The show dealt more with Lanza's health issues but did hint at the possibility that his death was a result of a Mob hit. However my understanding is that this bit was done tactfully and without strong emphasis. Just enough for you to understand the controversy. The show first went up in 1995 and has gone up a few times since.
For more info on this show:
http://home.earthlink.net/~vicscape/lanza/
Be My Love: The Mario Lanza Musical by Mark Janicello:
Janicello an American tenor from Brooklyn, has found his career in Germany and Austria as a professional Tenor. After putting together a successful biographical musical about Elvis he endeavored to bring another legend to life with his show "Be My Love." The show follows Lanza from childhood listening to Caruso's records through his vocal training, army days, bad business decisions, alcohol issues, to his death. The show finds all the people in Lanza's life singing as it utilizes the music that made him famous to tell his story.
I had the pleasure of speaking with Mark on several occasions and read the script. I was really impressed with the work and he and I discussed the possibility of my producing/staring in a production of his show out here in NY. However the production being very big in nature and the story heading in a slightly different direction then I want my show to, I declined. He seemed genuinely impressed with my voice especially being only 26. I wish him many successes in the future.
For more information about this show:
http://www.markjanicello.net/Be%20My%20Love%20The%20Musical.htm
Be My Love: The Mario Lanza Story
Producer Sonny Grosso (The French Connection) and Phil Ramone (Record producer for Billy Joel and many others) have been trying for about 10 years to get there production up and running, intended for a run on Broadway. Richard Vetere is penning the work. As recent as 2007 the show was put up in concert form with the Nassau Pops Orchestra. Little information is available about the show however. I do know that it does use the rumors of the Mob hit ending Lanza's life, Lucky Luciano being a major character in the show.
Some Basic show info:
http://www.rense.com/excursions/lanza/playb.htm
Various performers have been connected with the show. Originally Michael Amante was announced to be playing the Role. Some of you may know Michael as the National Anthem singer from Shea stadium. Michael's voice, more pop then opera, is large with a beautiful top range. Michael was attached to this show when it was to open on Broadway in 2005. Financial issues arose and the show never got it's run.
For more about Michael Amante:
http://michaelamante.com/
To hear his rendition of "Be My Love" and "Because You're Mine":
http://music.myspace.com/index.cfm?fuseaction=music.Discography&artistid=14105921
More recently Tenor and Traditional Italian/Neapolitan singer Aaron Caruso was attached to it and performed the role during the concert with the Nassau Pops. Aaron has a strong physical resemblance to Mario, especially his early film days. His voice which is perfectly suited for the Neapolitan songs that he is best known is very pretty with a solid top range. I heard wonderful things about his performance from a friend who was playing Violin for the pops for that concert.
For more information about Aaron Caruso:
http://www.aaroncaruso.com/
So what can I do that hasn't been done before?
I'm not sure. I know I can bring a voice that has an understanding of both the Operatic selections and the popular selections that Lanza was famous for. I can also bring theatrical experience ranging from Shakespearian Tragedy to film to the Great American Musical, but I'm sure there are others who have brought similar things to previous productions. What important to me is to do a show that puts Mario in the light he deserves and also allows me a chance to sing some of the most impressive array of popular songs and arias I've ever seen. Lanza was a one take wonder in the studio and had a voice that could fill the 10,000 seat Royal Albert Hall without amplification. Yet despite my own reservations I have a group of people behind me that believe I can do justice to Mario Lanza's legacy and I trust them. I'm still in the research portion of my show and I will update more as things go along. With hope and prayers I hope to get my show up with a team of people to help me.
In the next few weeks I'll be heading into the studio to record an EP (Extended Play/about 4-6 tracks) tribute CD to include a few arias and at least one of his popular hits to use for promotional purposes as part of a package I'm going to make for the show. I'll also be talking to at least one of my very talented friends who is a photographer to take some pictures of me as Lanza. I'm currently putting together a webpage on Myspace for the show too. Once everything is up and running I'll send everyone the link to the site. I'm also looking to get a few videos up on Youtube, facebook and Myspace video of myself singing arias and some of Lanza's hits Live with maestro David Schaefer as my accompanist. I've got a lot of planning to do to get everything done, but I know what I want to do and that's a good start.


---